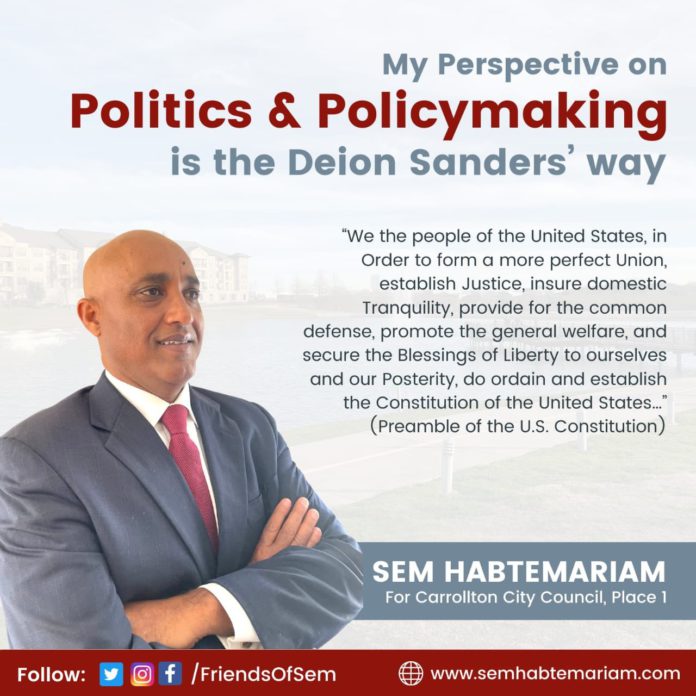 Many Eritreans have been put on the world spotlight for their achievements, from Biniyam Ghirmay, the Eritrean cyclist, to Abel Mulugeta, a Dallas Texas native born to two Eritrean parents running for Congress, or somebody similar like Joe Neguse, who is currently a representative in congress, and now a Carrollton resident, Semere Habtemariam, is now making the spotlight as he runs for City Council Place 1.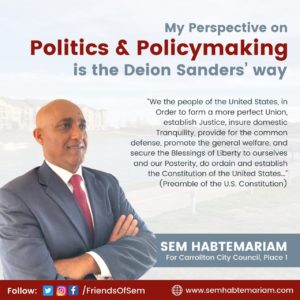 To know more about Ato Sem Habtemariam, Sem was born in the village of Wekiduba, a small village near the capital city of Asmara in 1970. After 5 years of age, Sem experienced the savagery of the Mengistu Hailemariam regime and eventually had to seek refuge in Sudan. Sudan was the major go-to place for Eritrean refugees during the Eritrean revolution.
Not long afterwards, Sem immigrated to Dallas Texas in 1989 from Sudan and began his studies at the University of Texas at Dallas. He graduated with a bachelors and master's degree in government and Politics and Public Affairs. Sem has tried to pursue a PhD at the University of North Texas, but he has since paused on it. He wishes to return and finish it.
Sem has been a resident of Carrollton Texas since the year 2000. He is currently serving as a member of the Board of Trustees of the Orthodox Charity Eritrea, which is a 501c non-profit charity organization. Sem was the board member and CEO of the Forum for National Dialogue (Medrekh) between 2016 to 2019. The organization was aimed to promote democracy, rule of law and human rights in Eritrea.
Sem has authored two books, such as Hearts like Birds, which is a novel on Islam and terrorism, and Reflections on the History of the Abyssinian Orthodox Church. Sem also wrote articles regarding the Horn of Africa, with his focus mainly being on Eritrea, on the Awate.com website. He has been writing articles on the website since 2009. The articles mainly consist of constructive criticism of the PFDJ government body, along with book reviews, articles about Eritrea's political situation & climate, as well as commentary.
Sem's priorities once he is elected to office is making Carrollton safer than it is, promote a friendly business environment and make sure that staff at businesses are making a livable wage, improving community life, and the service and response time when it comes to city utility and public infrastructure. Furthermore, Sem envisions solving the problems that many of his fellow Carrollton citizens face and finding creative solutions to those problems.
Here's an except of Sem's stance on contemporary American politics:
"Most issues in our public life are neither binary (blue or red) nor mutually exclusive. This is true in all levels of government including the federal, state, and local levels. Most importantly, they are not a zero-sum game where one side had to lose for the other to win. The tide of public policy must lift all citizens up and the focus should be on the common good and common destiny. The old cliché is still true, that as people, we rise together and fall together."
"In an adversarial system of politics, the pendulum of governance will inevitably shift either to the right or the left and lend itself to partisanship. There is nothing inherently wrong with this as long the excesses of the governing party can be countered by alternatives of the loyal opposition in a rigorous, robust, competitive, and fair elections. This presupposes a mutual respect among the parties and the recognition that the system would not work under a monopoly of one-party system. For our democracy to work, we need the Democratic party as much as we need the Republican party and vice versa. Mutual respect and civility are paramount to the health of our democratic governance."
Source – semhabtemariam.com/priorities/
Sem is married to Yodi Askale and has 4 kids, Mike, Mel, Dlet and Blen.